"Beautifullart" is of course a play on the term : "Beautiful Full Art",
… which is also the delightful name that came to me through my beloved supporters and patrons, several of whom used those three words many times when discussing my paintings with me and encouraging me so many years ago.
Click on your favorite picture above to find out what types and sizes of prints are available.
For me, the Art of Abstract Picture Creation is indeed compelling! I would starve (and have done so a few times) rather than not paint or create in one way or another. I am a deeply emotional person, feeling things high or low more deeply than most. Perhaps this is why I crave exercising my artistic side and absolutely must do so or I would wither and die anyway. I believe that the creation of art is a celebration of all that is LIFE.
The beauty of the brush-stroke, the way the texture applied works on a new Canvas – creation taking place before my very eyes, The important color choices that work together to create the feeling that I'm "Inspired" by the original vision. For "Inspiration" is the only way I now Work. I have evolved to, leaving behind any pre-set idea of how the Original Painting will or should look, and create only as "Inspiration" and "Intuition" guide my hand.
I am mostly interested in new forms of creation that express and invoke emotion, (not in painting what already exists). Emotion, I feel, is the deepest vibration that we all resonate to. I paint also as a form of therapeutic release and because I see that my art makes some people happy in a way that I may be too shy to attempt in person.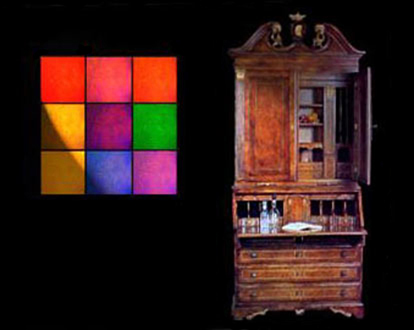 Queen Anne Bureau – stunning next to "Tiffany" ~ 1998
RjF paintings hang in many private and several corporate art collections across the USA, Canada, United Kingdom, Scotland, Germany, Italy, Greece, Taiwan, Hawaii and South Africa. If you choose to purchase a painting, you are purchasing directly from RJF. The Original Abstract Art Paintings are direct from my Artists Studio. This allows RJF to offer her paintings for a fraction of the Usual Art Gallery Price, And it gives you an opportunity to own a quality work of art that is growing in demand.
If you like what you see, you are invited to visit my art galleries and gift shops at:
FineArtAmerica.com and Pixels.com, as well as a variety of Unique Gifts at iJustWannaBe. Various size prints and frame styles are available, and all kinds of interesting, practical and decorative derivatives of my artwork can be viewed and purchased with hassle free delivery. Most items make for a totally unique gift for yourself or someone special.
If you purchase an original painting through my eBay art gallery, it will of course be signed by RJF with a certificate of authenticity to safeguard and enhance your investment.
Thank You for supporting LIVING ARTISTS!